WLM Taskbar Features is a Messenger Plus! Live script which adds badges and jump list features into Windows Live Messenger.
Download WLM Taskbar Features (1.0.0.0 - Oct 4 2020)
Install
Download WLMTaskbarFeatures.plsc and run the file. Messenger Plus! Live should then prompt you to import, choose the I accept the responsibility of installing this script checkbox, and then click the Import button. The script should start immediately.
Alternatively, open up the Plus! menu in Messenger, choose Preferences & Options, then the Scripts category, click the Import... button and then select the plsc file.
You may also use this with @Luis_Leandro's latest version of the 2009 skin and optional 8.5 resources. It makes a great look

Features
Taskbar status badge



Online and away examples
Shows your status in the taskbar, and optionally, the display picture of any user who sends you a message (see Options below).
Jump list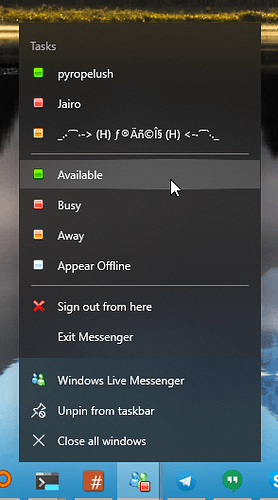 Change your status from the taskbar button's right-click jump list menu. Optionally, show your favourite contacts, with their status, and click on them for quick messaging.
Thumbnail toolbar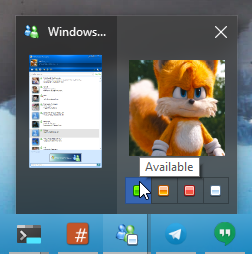 Change your status from the optional thumbnail toolbar.
Options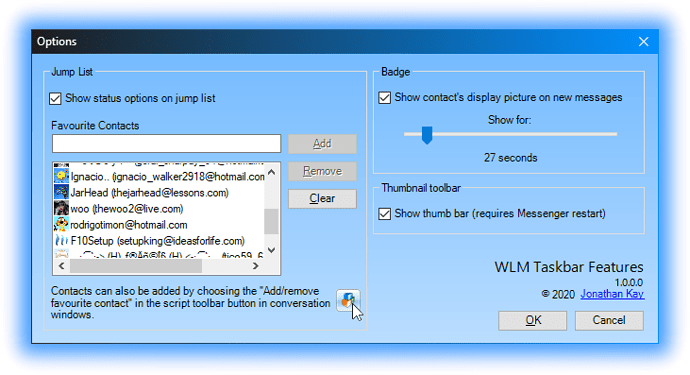 To open the Options window, while in any conversation window or contact list, click the Script button, and then choose Options.


Favourite contacts
Quickly add a favourite contact by opening a conversation window with the contact, clicking the Script button in the toolbar, and then choose Add/remove favourite contact.


Language support
WLM Taskbar Features supports English, Spanish, French, Portuguese, Dutch, Hungarian, Greek and Russian. Other languages will show up in English. You can select the language to use in the Plus! Preferences.
(To use Russian, you will need to download this mostly Russian language file, Lng_Russian.zip (46.9 KB), and put it in the Messenger Plus! Live\Languages folder as Plus! does not natively support Russian.)
Requirements
Windows 7 or above
.NET Framework 4.0 or above installed (included in Windows 8 and above)
Windows Live Messenger 8.x
Messenger Plus! Live
Version history
| Version | Date | Notes |
| --- | --- | --- |
| 1.0.0.0 | Oct 4 2020 | First release |