Hi everyone. As you may know, lots of people aren't interested much of compilation & further development of Windows XP/Server 2003 source code. By referring to guides from 2020/21, I succeed of compilation. Also I will share a simple guide of how to do that (based on Windows Server 2003 (NT 5.2.3790.0) build guide). Here's a screenshot to prove that it's a real compiled build.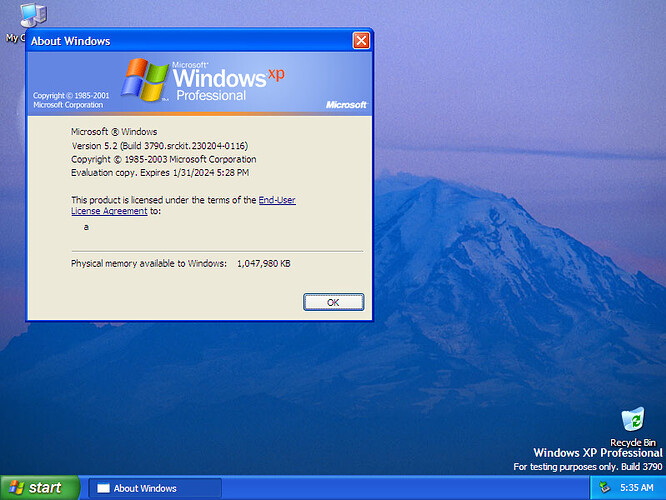 Instructions
Create and install Windows 10's latest version virtual machine, with minimum 120GB disk space and 4GB memory and processor cores
Allocate D:\ disk drive for entire source code (min. 60GB)
Change CD-ROM drive to G:\ (for getting missing files if neccesary)
Disable User Account Control - needs for avoid screens of confirmation
Download source code from link below
Important! Disable Real-Time Protection from Windows Security
Extract source code to

D:\srv03rtm

Uncheck

read-only

from srv03rtm folder
Install

driver.pfx

from "tools" folder for Local Machine & Current User
Run Command Prompt as Administrator, and switch to

D:\srv03rtm

.
Run

tools\prebuild

for prepare to building
Type "build /cZP -M 4" (-M 4 for using all 4 cores of processor)
Extract missing binaries to D:\binaries.x86fre (link will be uploaded later)
Type on CMD "tools\postbuild -full"
Then, write "tools\oscdimg pro|per|srv" for generating ISO file for XP Professional/Home Edition/Server 2003 Standard Edition
Serial key located at srv03rtm\base\ntsetup\pidgen\pidgen\spidgen.cpp, and it's HB9CF-JTKJF-722HV-VPBRF-9VKVM
Missing instructions I will write here. You can use guide at top as quick reference to get all missing things. Link to missing binaries of source I will upload later.
Download Links
Source code: srv03rtm.7z - Google Drive
Missing files: misbin.7z - Google Drive