It should be noted that most of the comments from me have been toned down.
A little Summary

So i was trying to install Windows 8.1 with a old 8.0 key. It "worked" for a short while before getting deactivated. I've tried the metro settings but it didn't worked.
I (as sometimes a idiot) decided to bring that salt into the Microsoft forums…
So on my old gaming PC i installed a brand-new 1 TB HDD with cache so i decided to reinstall Windows. I decided not to reinstall Windows 10 (copy i had was on the smaller hard drive) but to install Windows 8…
I had a copy of Windows 8.0 (I could just upgrade it to 8.1 with the Windows Store) so i decided to put that into my USB and it appears that it was somehow corrupted… So i had to go to the official Microsoft site to get a Windows 8.1 ISO. Fast forward because my WIFI was slow because Vivaldi. I was able to install Windows 8.1…
So i decided to use a Windows 8.0 key from 2012, I worked. There was no "Windows 8.1 Pro" watermark. The watermark just reappeared when i was installing Steam just to test Portal 2. I jumped into Metro settings to find this…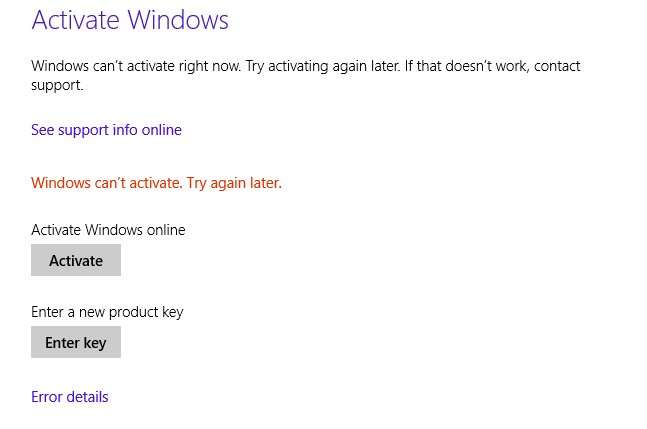 it says that "Windows can't activate. Try again later.", which is not helpful… I decided to press "Error details" and strangely doesn't show any thing.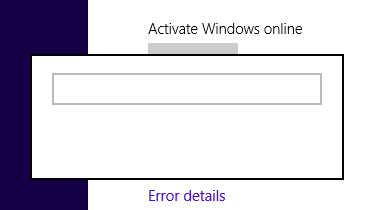 I took a look in the control panel there was this option.




It doesn't work… I thought linking to my Microsoft Account would work but it seems to not work since according to the Microsoft Support Site. It's only for Windows 10.


So it seems i'm on a dead-end. What should i do?