Hi Peepz,
After a time of downtime, I recently upgraded my MSN server, it now support games.
I'm currently actively working on new games (Currently got 2 games Scissors and tic tac toe.
Currently i have everything working, except for privacy settings and the reverse list is empty (Not a problem for chatting).
Filetransfer is tested and working etc.
The server is made using C#/ASP.NET Core and RabbitMQ.
The server and a patched client are available at https://omsgr.com
The website currently support creating of account and reset of password.
MSN patching is done through the help of: valtron's/Escargot's msidcrl.dll
Further work will be done on creating a Mobile client.
Me myself am available as: jeffrey_2301@live.nl
Game sample: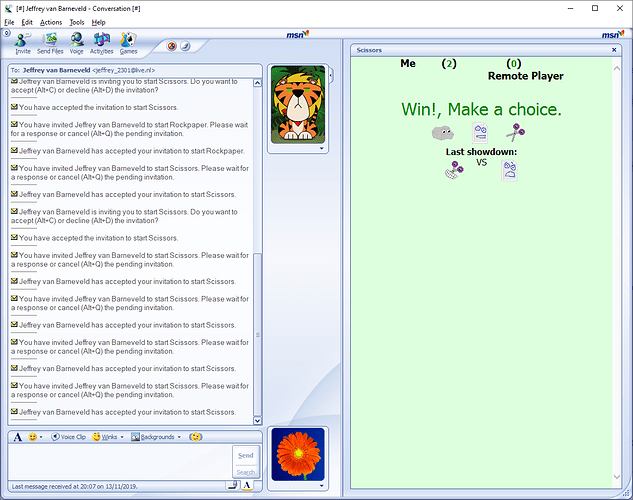 For older versions:
https://www.omsgr.com/older-versions
Note: For MSN 2.0 login you can now login on website, to set a MSN 2.0 password.
So if anyone is interested in helping hit me up!
Kind regards,
Jeffrey