Hello Everyone , I am looking for people who have the SSO Code for Msn 2009 + so i can see if i can impliment it into my msn server
http://image.prntscr.com/image/b2d972ca821446b5afd52261c44b254b.png
as you see my server reports the msn 2009 client uses SSO Login Athentication.
http://image.prntscr.com/image/42d18cd4a3f743939669a4a2fb3f8fdb.png
You will notice that i have allowed clients up to MSNP19 to Handshake Accept Login from those client versions but do not have the Athentication codes passed MD5 , I am going to attempt to make a SHA1 Version as you seen in my Servers description.
Please note that I can only make the server with VB6 , it is not impossible to make the newer MSNP clients to work on the VB6 Server so.
Here are some updates to the newly created version of my server.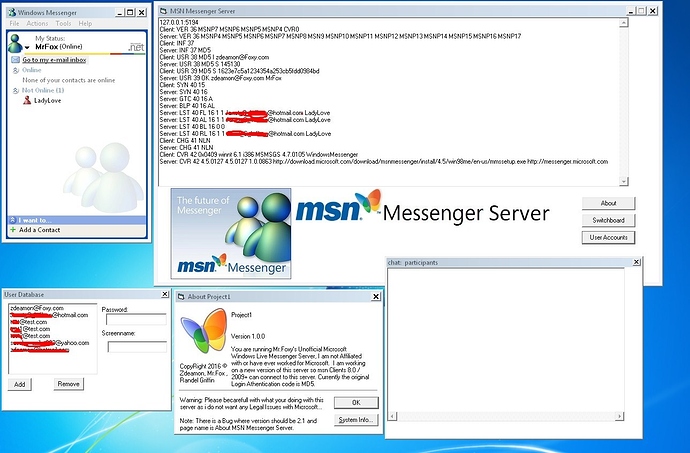 Switchboard has bean added and working with Downloads and Possibly Video Calling.
Currently Supported Client Versions :
2.1.1047 1997 - 2000
2.2.1053 1997 - 2000
3.0.0286 1997 - 2000
3.5.0077 1997 - 2000
3.6
4.6
4.6 XP
4.7.0105
If anyone has MSN Messenger version 4.7.3000 And 4.7.3001 Please send them to me , Thank you.
If you have questions please feel free to post them here or PM me if you want to go private…