Version: 1.0.0.0
SHA-1: 23098BE0BD0F63E50F9FEFF8F1694363142EF1A9

With the immediate demise of Adobe Flash, Messenger Flash Reviver restores the Flash-enabled features (winks, dynamic display pictures) of all versions of Windows Live Messenger and MSN Messenger by installing a portable version of Flash and then modifying Messenger to use it.
How to use
The Windows Live Messenger or MSN Messenger executable file will be automatically detected, or alternatively, you can select the location of the file in any Messenger installation
Press the Start button
Messenger will be Flash revived, and then restarted for use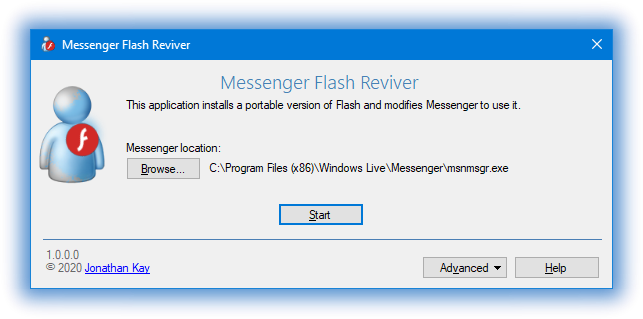 Requirements
Any version of MSN Messenger or Windows Live Messenger, in any language
Any version of Windows XP, Windows Vista, Windows 7, Windows 8, or Windows 10
Features
Optional automatic backup of modified file
Optional restart of Messenger
Full logging
Command line parameters
Silly little easter egg
UI available in English, Spanish, French, Hungarian, Dutch, Portuguese, Russian and Greek
Command Line Parameters
Parameters

| Parameter | Meaning |
| --- | --- |
| /run | Automatically starts reviving |
| /exe [PathToExe] | Sets the path to the Messenger executable file |
| /nobackup | Disables making a backup of the file before reviving |
| /nomsgrstart | Disables Messenger from being restarted |
| /norestartwin | If files are not modifiable, prevents Windows from being restarted to complete reviving (automatic Windows restart feature triggered by /run) |
| /? or /help | Shows this helpful table |

Errors return errorlevels -2 through -10, successes return 0 or 2, view errorlevel documentation.
For more information, see the blog topic.