Try this. It worked for most users.

Ok, go to this page, and try all possible fixes.
At least for the 0x800c0006 in WLXSuiteLang it's because you have more than the English language installed in Windows and the Essentials installer tries to pull the language files from Microsoft's download server, and the files no longer exist.
To workaround that, disable your network adapter (ie. run ncpa.cpl, right-click on the connection and choose to Disable), run the setup, and after it's complete, you can go back and re-enable the connection.
For the other, if it didn't get resolved by the above, you'll probably need to take a look at the log file. You'll find the logs in %programdata%\Microsoft\WLSetup\Logs.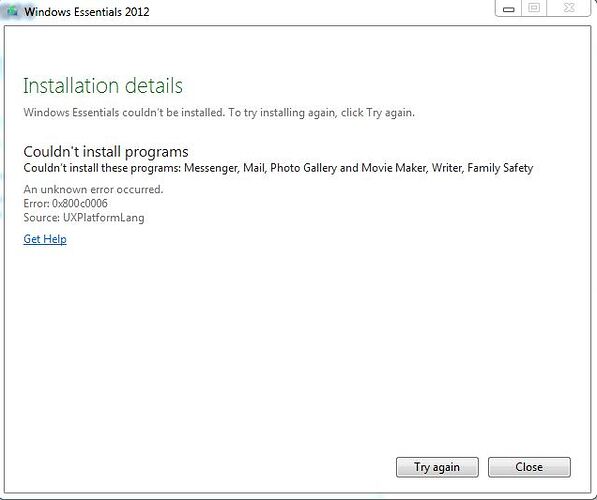 I can't install because it says
Couldn't install programs
and here's the error code or something
An unknown error occurred.
Error: 0x800c0006
Source: UXPlatformLang
Any updates on this link?
That's what I saw as a solution in the website I linked. It says turn off the internet from your computer to prevent your OS installation from detecting it's out of support.