I was playing GTA 5 on my Laptop and I made a manually BSOD (Ctrl + Scroll Lock), but then,
It's suddenly showing Orange Screen of Death that was very rare.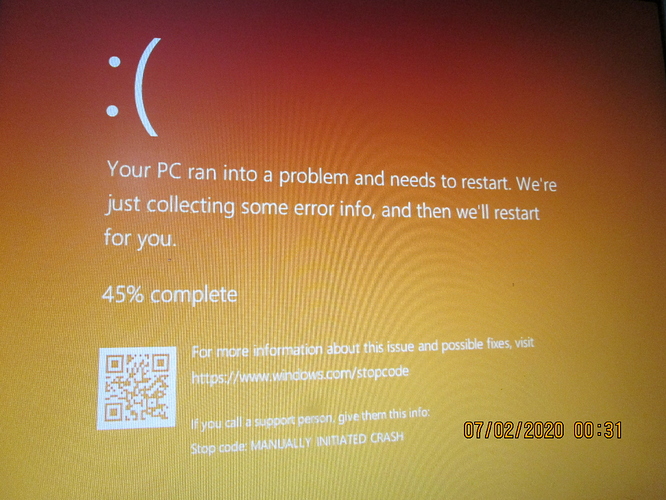 (not modified at all)
it's not very rare, but a bit Rare:
https://www.google.com/search?q=Orange+Screen+of+Death&client=firefox-b-d&tbm=isch&source=iu&ictx=1&fir=4LexQv5wPfeTcM%3A%2CR11ILXx0yO-66M%2C_&vet=1&usg=AI4_-kSMhbtl72gsl9mYQQZQIwZgiIq-NA&sa=X&ved=2ahUKEwjWx7TH8L_nAhUPEqYKHaodC1AQ9QEwAHoECAsQAw#imgrc=4LexQv5wPfeTcM:
I got this by:
playing GTA 5 with low end mods on ThinkPad T430, using Windows 10 LTSC 2019.
But when i not playing GTA 5 or do something other, it's showing BSOD normally.