Hey, everyone out there. I know this topic doesn't involve MSN Messenger / WLM, Butterfly Messenger, the Escargot server, etc.
I'm having an issue with my 64-bit Windows 7 in my laptop.


I've been facing a low memory warning several times. I've also been facing some slowdowns. Generally, while my Internet Explorer is open, the warning comes up after 5 or 6 days. After that, I'm forced to close my Internet Explorer and then some other programs I kept open for over 5 days. If too much memory is wasted, the system's session is at risk of a BSOD. I've tried several things ( changing the virtual memory settings, using my Spyhunter 4, using Readyboost, closing svchost.exe with my task manager, etc. ), but none of them stop or even reduce the issue.

I looked up several vids involving the issue or issues like it and the vids show me the same method: changing the virtual memory settings, but trying this method got me nowhere.


I don't know if I'm wasting virtual memory, facing a memory leak, facing a virus, destroyed something important for the system or if I'm abusing the system.

I don't even know what's really causing the memory issue. So far, it's looking unstoppable for me.

If it is, the only way left to stop the issue I can think of is to delete the system!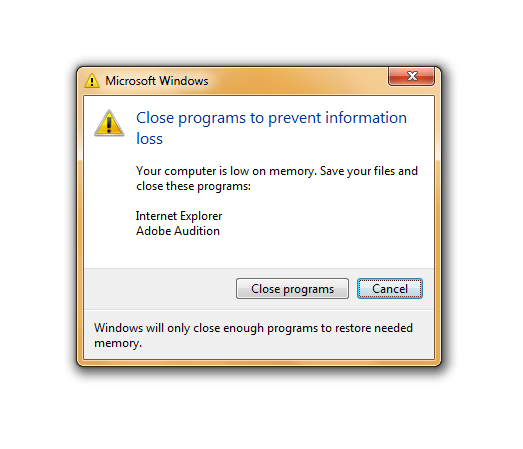 Why am I facing this warning and what did I do wrong? If any of you have faced the exact issue, can somebody help me or explain what's happening to my Windows 7?