I'm not satisfied with MSN 7.0, could you guys help?
You should try 8.5 (if it works for you)
And MessengerPlus to skin your WLM.
If you want WLM skins, go to this category.
Okay. make a topic of what the error look like on this category, and hoping @OhHelloThereImTheGuy can help you.

If you're using anything above XP, then WLM 8.5 should work best. If you're on XP, then 7.5 at the very least should work. If you have issues getting it to work on there though or if you plan to use anything below XP, then I'd personally recommend 4.6, which is super reliable on those versions of Windows right now and has enough of the basic MSN feature set people are used to seeing (emoticons and contact groups). That requires old MSN support to be enabled on your account for it to work though, FYI.
I use Windows 10, I said it didn't work because I couldn't find it.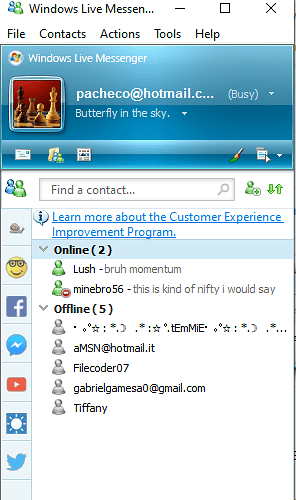 (Maybe i should've blocked out the names.)
I wonder if games will work in this version, It worked on 7.0…
They do.