Hello, since i want to be something useful to the MSN community, i've made a website where you can see most of emoticons from MSN and when you want to make an emoticon you don't remember, you can go there.
THE WEBSITE WILL STAY ONLINE FOREVER
http://msnemoticons.rf.gd
althrought most of the emoticons images are not uploaded, don't worry, in 2 days it will be probably complete.
Thanks
EDIT: The website got updated and now it got a nice UI, thanks @yellows111.
Here's a screen of this: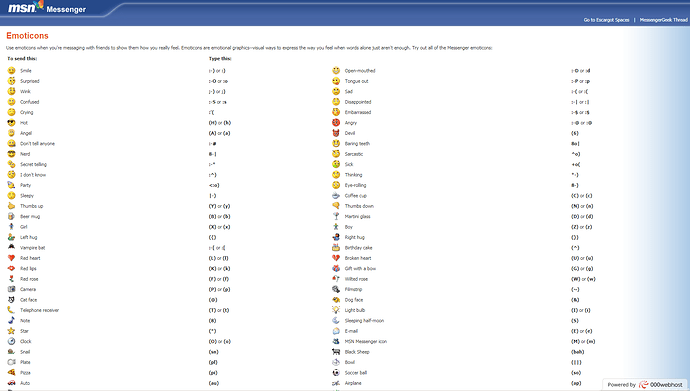 EDIT 2: A 2011 emoticons page will come soon. thanks @Megadeth58 for the 2011 emoticons files. Probably coming soon in 1 day

EDIT 3: WLM 2011 Emoticons page is almost done. Again thanks @yellows111


In some minutes, a sneak peek should appear.
EDIT 4: After 1 day of waiting, me and @yellows111 are releasing WINDOWS LIVE 2011 EMOTICONS PAGE!
There will be another page because the 2011 emoticons are too much.
OOPS, i forgot to give the link and a screen! (emoticons are getting uploaded)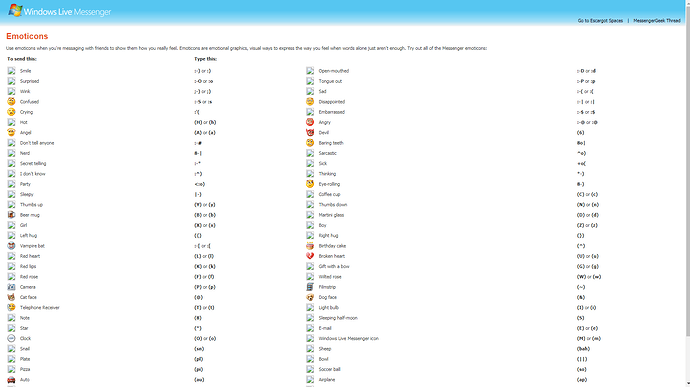 And… here's the link!
http://msnemoticons.rf.gd/live/index.html
EDIT 4:
Unfortunately, we changed the host.
Please, do not go anymore in the old url and go in the new one.
Thanks.