I was visiting VidLii and i saw this…
Yes i know i did those shitty posts where i whined about VidLii but fuck those and forget about those.
The decline of VidLii could be because most of VidLii's most known creators left the site. Like the RWJ guy left VidLii 5 months ago.
Meanwhile i decided to take a look at BitView on Alexa Site Rankings and what the fuck just happend?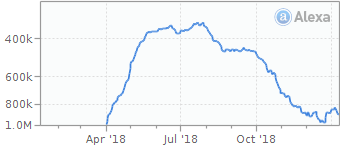 You can see that BitView went rock bottom in Late-Decemeber 2018. oof.
Here are 3 comments i posted about the video
It seems that people just are no longer caring about VidLii due to all of the shit-drama. Remember… VidLii got also more attention during the Ali drama due to that drama wiki which then made a bad taste (kinda like chrischan all these years ago) It's also because the creator of VidLii (jon or something like that) seems to be no longer interested in VidLii. Remember all the way back in Early-2018 when people were hyped for the VidLii 2.0 update? I've never heard any news since March. and VidLii's userbase seems to be more foregin these months. It seems that BitView hit FUCKING ROCK-BOTTOM. Nobody's even active on BitView… So i can maybe say that BitView's dead. Although most of the foreign people just left VidLii and returned back to YouTube… In fact most mini creators temporarily moved to VidLii and then got back to YouTube or like me just left content creating entirely. If VidLii goes rock-bottom like BitView then there's a risk that VidLii might just… close it's doors… I have heard nothing about BitView these days…