At the moment, options for using Escargot on mobile devices are a bit limited right now. Obviously, there's Mercury Messenger for Android and the official MSN clients for the PocketPC (which a couple people have actually managed to patch successfully), but besides that, there really isn't anything.
So I had an idea… would it be possible to patch an old MSN client for iOS to work with Escargot? Well, with the help of the lovely folks at the MomentumDev Forums, it seems like I'll eventually be able to do just that.
There were 3 different MSN clients I tried to work with: MobileChat, IM+ Pro, and the official Windows Live Messenger client for iOS 4.0+. Only one of them seems like it'll be easy to patch, and it was the official one. But before we get into that, I'm gonna talk a bit about the first two…
iOS MSN Client No. 1: MobileChat
I wasn't able to gather much info on this one. It doesn't seem to be on the App Store anymore, and there weren't any articles about it online. It honestly kinda makes sense why, since the app's name is incredibly generic.
Anyway, I poked around in the .ipa file with a couple different tools, and I didn't find much. The .plist files didn't include anything special, and the executable itself didn't have the server strings inside it anywhere. I assume it'd be easy to patch if I could somehow decompile it, but that unfortunately doesn't seem to be possible for me to do.
Moving on…
iOS MSN Client No. 2: IM+ Pro
This one has many of the same issues as the previous one did. Nothing in the .plist files, no URL strings in the executable, nothing… however, the ObjectiveC class names and variable names did occasionally mention server URLs and stuff, meaning this one might be sliiiiiiiightly easier to patch than the last one if it could somehow be decompiled. I don't really know much about that kind of stuff unfortunately, since I've only ever used GameMaker Studio to program.
And finally…
iOS MSN Client No. 3: The official Windows Live Messenger app
This one is the most promising by far. At first, I was afraid it would be equally impossible to modify without decompiling it as the last 2. I figured I'd look around in the .plist files anyway, since it couldn't hurt to try, right?
And I'm glad I did, because…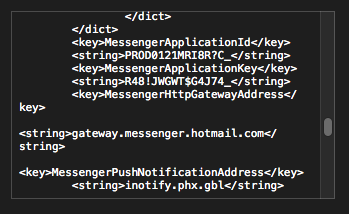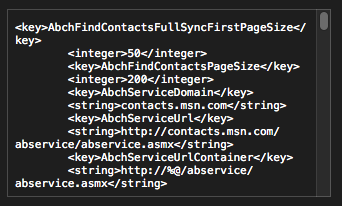 …yup, the server URLs are all located in a file called GlobalSettings.plist, right there in the main folder! And they're all in plain text! Has Christmas come early this year?!
Obviously, these aren't the only URLs in the .plist file. There are a LOT of URLs, and it'll be a real pain to replace all of them, but at least I won't have to decompile the entire damn executable to do it. All I need to do now is wait for WLM 2009 (and probably WLM 2011) support to come out, and I'll be able to easily patch this app and use it on one of my older iDevices!