Formerly PokTube, we became more realer than FulpTube. Have fun
Note: there's some pervert spamming weird shit on PokTube.
looks like a youtube in 2007-2010
This is not a old youtube clone, and should not be treated as such.
ok, sorry for inconvenience
that looks sooooo cool! ima join
Just "redesigned" the website, main page looks like early-2009, though other pages are just 2005.
Yes, there's a working Flash Player as well as an ActiveX player.
>assumes project to be dead because dead link
this project was private for like half a day because of a weird reason.
the link has been replaced, due to ngrok assigning me a different link.
i actually really like how it looks, it's like old youtube design, but blue, kinda like it.
the thing that is annoying is the shitpost, i mean, your website is just gonna be like Vidlii, a shitpost website or even a p*** website (yes, people uploaded p*** on vidlii and it took a rly long time to delete lmfao).
still a good website tho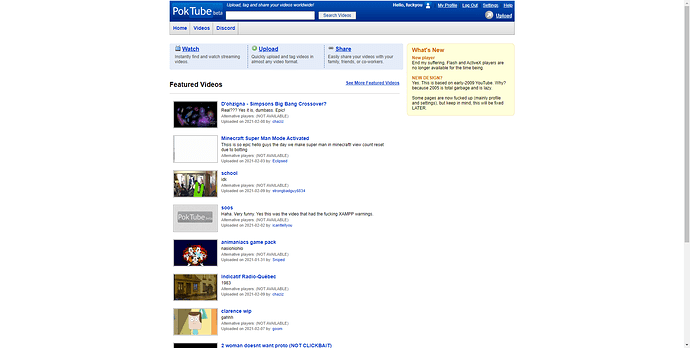 It won't.
As long as no large youtubers promote, and no 4chan anons join, this website still be fine.
It won't. This only happens on VidLii because of people from /b/.
Do you want a website that only has this video and that's it?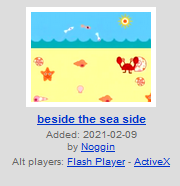 No?
Well, shitposting is allowed. Plus most of the PokTube shitposts are funny.
---


i didn't have ideas of what to put as username ¯_(ツ)_/¯
yeah you're right, vidlii was really normal before youtubers start making videos such as "OLD YOUTUBE FROM 2008 BACK???!!"
heh i don't even use vidlii since 2019 so who cares lmao
Originally this was going to be a 2005 clone. I came up with PokTube on November 2020 but killed it due to drama (that happened outside of the Escargot/MG community). I later revived the project in late-January 2021.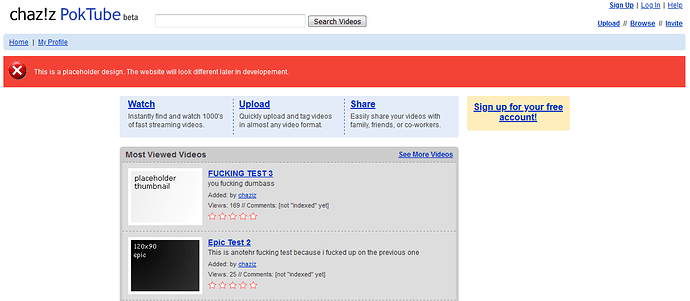 it looked pretty nice (its better now tho lmao), i also tried to mess with framebit code but i just deleted it cause i wasn't gonna do anything with this
Profile Pictures can only work with PNGs.
This codebase is garbagely shit.