Introduction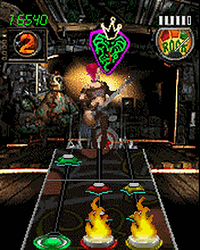 It's been a while since I've done one of these, however since I have a flip-phone and discovered a source for J2ME games, I decided to get a few of them.
…
And by a few, I mean
a couple dozen
. This includes the entire Guitar Hero Mobile series, so I might actually release a review of some of them, similar to my
GH5:M review
and my GHWOR:M "review" (which I won't link, it's shit). The Guitar Hero Mobile series is actually rather peculiar; people have had extremely mixed opinions of it, with it winning the BREW 2008 Best Game award to another reviewer calling them "horrible". They had 4 main-series games released for them, 2 expansions (yes,
really
), 2 spinoff games, and 1 DLC pack game. Today, we will be reviewing the first of the series, Guitar Hero III Mobile, and take a brief look at the DLC pack game, Guitar Hero III Mobile Song Pack 1.
---
The Setlist and Song Pack 1
The setlist is, in my opinion, one of the best in the mobile series, with songs I can recognize. Here they are in order. Songs italicized are ones I recognize. Songs bolded are ones I like.
Black Magic Woman - as made famous by¹ Santana
Woman - as made famous by Wolfmother
Miss Murder - AFI
Suck My Kiss - RHCP
School's Out - Alice Cooper
Hit Me With Your Best Shot - Pat Benatar
You Really Got Me - as made famous by Van Halen
Strutter - as made famous by Kiss
Cherub Rock - Smashing Pumpkins
Trippin' on a Hole… - as made famous by Stone Temple Pilots
Monsters - Matchbook Romance
Shout at the Devil - as made famous by Mötley Crüe
Paranoid - as made famous by Black Sabbath
Jessica - as made famous by Allman Brothers Band
Rock You Like A Hurricane - as made famous by Scorpions
¹: this is neither a cover, but it isn't the original or a session recording…so what the fuck is it?
11 out of 15 songs I recognize, 8 out of 11 I like, 9 out of 15 that are covers, 1 out of 15 that is a cover of a cover. You might notice that I didn't add "as made famous by" to all of them; that's because you could download actual MP3s for the songs from the Guitar Hero games.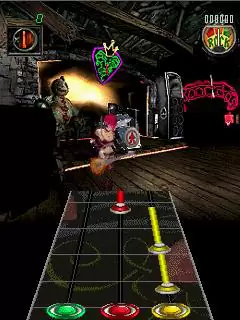 There was a metric asston of DLC for Guitar Hero III Mobile; too much for me to reasonably list. This is where I bring up Song Pack 1.
Song Pack 1 was essentially an expansion pack for devices like mine that can't get DLC reliably blah blah blah setlist time bitches no formatting
Rock And Roll All Night [sic] as made famous by Kiss
Laid To Rest as made famous by Lamb of God
Talk Dirty To Me as made famous by Poison
Metal Heavy Lady as made famous by Lions
Psychobilly Freakout as made famous by Reverend Horton Heat
Rock And Roll, Hoochie Koo as made famous by Rick Derringer
Crazy on You as made famous by Heart
Life Wasted as made famous by Pearl Jam
Mississippi Queen as made famous by Mountain
Search And Destroy as made famous by Iggy Pop
War Pigs as made famous by Black Sabbath
Slow Ride (this is where Megadeth says "take it easy") as made famous by Foghat
Black Sunshine as made famous by White Zombie ft. Iggy Pop(?!)
Pride and Joy as made famous by Stevie Ray Vaughan
She Bangs the Drums as made famous by The Stone Roses
The song by KISS is actually called Rock And Roll All Nite
They're all MIDI covers. It's a good setlist, though I could improve it. Let's move on; this is a review of Guitar Hero III Mobile, after all.
---
Gameplay & Customization
The gameplay is like your regular Guitar Hero, except with three frets instead of five, and no hammer-ons. If your device supports it, you can play two-note chords.
There is very little customization. You can play as two characters, and you can pick from four guitars;
A Gibson Les Paul
A Gibson SG (unlocked after completing the career on Easy)
A Gibson Flying V (unlocked after completing the career on Medium)
A Gibson double necked guitar (unlocked after completing the career on Expert)
Ain't much, a total of 8 combinations. And you have to play through 15 songs 3 times to get them. Kinda sucks.
---
Final Verdict
tl;dr 5/10
Guitar Hero III Mobile is an extremely average game. The customization is awful, the setlist is okay, and the gameplay is basically what you'd expect. This is why I am giving Guitar Hero III Mobile a 5/10. As far as I know, you can no longer get this game, so you'd have to get a .jar and a flipphone to play the game. Even then, that's illegal, because the game was paid.