its not alpha or anything, this is just a mspaint scribble that looks like a shitty knockoff of MSN explorer.
this topic is in fact, REVEL FURR ZIOUNE BOTHER BETT ALGEBRA 69 420 UWU LIKE MY PLOST UWUUUUUUUUUUUUUUUUUUUUU
yeah maybe i cringed too much.
Dude use adobe xd or at least GIMP or Krita instead of just MS Paint.
Yeah, i feel it looks like a little bad art
Mohammed please use something better this made me burn my eyes. Now my girlfriend rejected me cause my eyes are burned.
hehe, ZUNE IS FUCKING TRASH IPODS ARE BETTER AND AT LEAST THEY NEVER FAILED.
Before you make mockups could you please use better software besides MS Paint
Lo a used paint.net hare more cooler thank to @WindowsFanRebirth
For giving me th idea lol hare th new one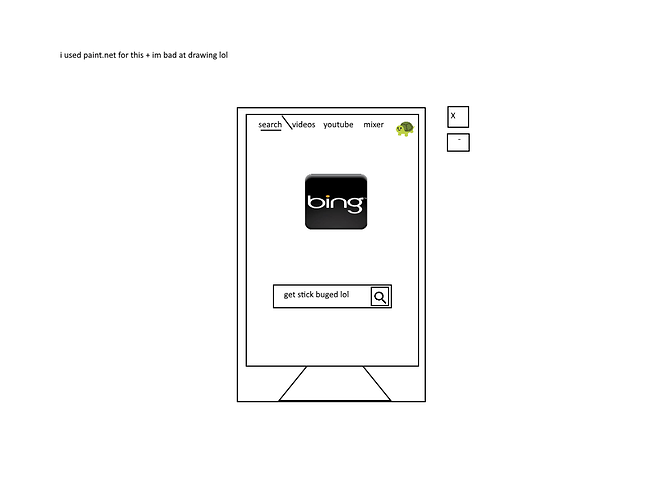 And I did not have all of th elements so yah
Yeah once i made a browser with VB, I bet i could make a program like MSN Explorer if I wanted to
Not judging but wuts th name of the browser ???
Surfboard Browser, but its not yet up for download
But witch program did you use to make it ?
use Ungoogled Chromium as source