Hey guys!
About
This app basically takes the music you're listening to on spotify and sends it to Windows Live Messenger.
I know there are other apps that already do the same but they are having issues on newer systems and don't always work well.
I tested on windows 11, 10 and 7.
I tried to run tests on XP too, but the system doesn't perform well in a virtual machine, but I coded using a version of the .NET Framework that XP supports, so I believe it works.
Preview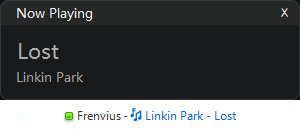 Change Log
v1.0.0
v1.1.0
Improved Spotify window search.
Added a settings page.
Minimize the app to the system tray.
Option to add the app to Windows startup.
Get notified of updates.
Download
v1.0.0 - NowPlayingSpotify-v1.0.0.exe (35.5 KB)
v1.1.0 - NowPlayingSpotify-v1.1.0.msi (284 KB)
Latest version on github
Contribute
This application is Open Source and does not need any internet connection.
You can check the project code, contribute, suggest some functionality or report bugs here