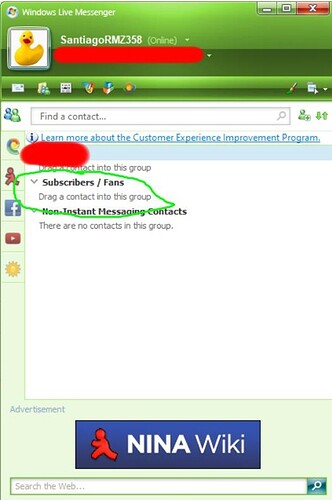 I have a group for those who are suscribers of my YouTube channel:
Santiago_RMZ
. If you are fan and want to add me use this emaill:
santiagormz358@outlook.com
.
Rules Of The Group:
Do NOT write false content messages
Do NOT write adult content
NO spam or scams
NO hate speech
Respect the rest of the group
If these rules are violated they will be banned from the group.
Para los que hablan espanol lean el post en espanol aqui → https://translate.google.com.mx/?hl=es&tab=rT&sl=en&tl=es&text=I%20have%20a%20group%20for%20those%20who%20are%20suscribers%20of%20my%20YouTube%20channel%3A%20Santiago_RMZ.%20If%20you%20are%20fan%20and%20want%20to%20add%20me%20use%20this%20emaill%3A%20santiagormz358%40outlook.com. Rules%20Of%20The%20Group%3A Do%20NOT%20write%20false%20content%20messages Do%20NOT%20write%20adult%20content NO%20spam%20or%20scams NO%20hate%20speech Respect%20the%20rest%20of%20the%20group If%20these%20rules%20are%20violated%20they%20will%20be%20banned%20from%20the%20group&op=translate ←