title say it all.
NOTE: I was able to do this before Media Center detect that Messenger wasn't found (aka Messenger Failure), Read it at bottom of the page.
The Media Center Messenger have minimal UI.
Tools used:
Windows XP (Media Center 2005, installed on my main Gaming PC)
Internet Explorer 7 (not install TLS 1.2 yet).
ProxHTTPSProxy (works fine without it install).
Main UI:

Testing (gif)

Chating with My Laptop:

Chating with amdk6:

It's doesn't display an emoticon at all:

here is the icon while someone writing message: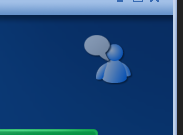 It's relies on Application so you need to patch Windows Messenger 4.6/4.7 and done (5.0 and later might not work because Media Center will detect Messenger not found).
NOTE: It's only works for atleast 1/2 days after patching, after that, this happens (even Messenger was installed/bundled):

nvm this tut: http://blog.jasontsang.ca/2008/08/windows-messenger-error-in-media-center.html
fixed the Messenger problem.