Today, at around 7 AM EST, the last remaining classic ICQ servers left open, which supported a good number of old clients (2000a - 7.x), were shut down. Russian users were notified of this days in advance, while others received silence from the ICQ system. I was only aware of this shutdown because a Russian user brought up a system message they received stating that "support for older protocols is ending" on the 28th. Before this time period, I've heard from numerous people with new accounts that they couldn't "reset" their password to add one to their account anymore, which lead me to believe that if you create an account with your phone number now, you can no longer add a password to it in any way, so those accounts were locked out from using old ICQ clients up to 6/7. Now that the old services are completely off the air, everyone is locked out, and your only options are either 8.x, or the modern/web version of ICQ, but who knows when 8.x might stop working.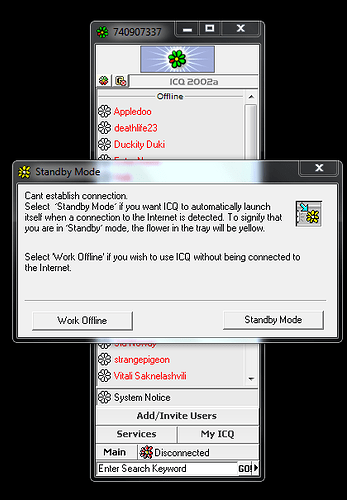 From mainly using 2000a - 6.x myself, they were OK for their time. 6.x was a bit too flashy, so I didn't use that version a lot, and due to issues with the 2003 version of ICQ, I'd usually use 2001b or 2002a. I like them for their simple UI and feature set, which made the experience refreshing for me. Adding on to that, there were also some features that basically made ICQ more open in the people you could talk to, like the IrCQ IRC network and the "Chat With a Friend" feature, which made it possible to find friends to talk to based on interests and topic. Unfortunately, these features were broken before I could get to try them out, and I assume they were broken by the time I joined. There was also an advanced search feature to find people by email address and other properties, but that didn't work anymore either. To add on to all the brokenness, most people were offline when I logged on to ICQ, and sometimes it was because people were using the modern ICQ client, which doesn't have a status indicator feature nor does it use such a feature behind the scenes. It made getting interested in using ICQ hard for me, but with the few people that were online, I enjoyed talking to them on there as much as I would on MSN or anywhere else.
As much as my ICQ experience was lackluster, I'm grateful that I even got to use the older clients in the first place, as I was worried that it would go down sooner. Also, I had plans to gateway the old servers to use an older protocol earlier ICQ clients used (96 - 99). Guess that'll be a complete server now. As I said before, the only usable classic version of ICQ at the moment is version 8, but otherwise, you're only other option is the modern client, which will become fact if 8.x does stop working.
So R.I.P. Classic ICQ 1996 - 2018. We'll miss you, and enjoy sitting in IM heaven with the rest of the discontinued messengers.