Is there any way to use old skype with a "live:" account?
im not so lucky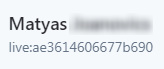 Hey! You didn't have to ping me.

i thought you know the answer

Me and @TReKiE aren't the wise gurus you think we are.
Skype 5.5 does not work for me. All i get is nothing and only the "echo123" contact. I think pre MS versions are no longer supported. And oh use something like Skype 6 or Skype 5.11. Unless MSNP24 support ended.