Interesting where did you get the iso?

It took me like a half hour to install it

It takes 10 minutes to install for me

what virtual machine are you using?? Also, would you install that on an actual drive??
I use xp as main os on actual hardware
that is very cool dude, do you use xp on a more recent drive or an old one, with an adequate motherboard ??
I use xp on a,pentium 4 pc from 2005
that's rad af, what about ram?
996mb of ram but planning to upgrade it too 2 gigs or 3.50 gigs
You install in virtual machine ? LOL
I have Windows XP in real PC hardware from 2012 Asus.
i had windows xp on a real hardware but i dont have it anymore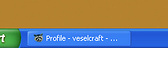 i knew you will notice it