yes
zero updates in nearly 5 months
THE WOW STARTS NOW!!!
"I was cheated!"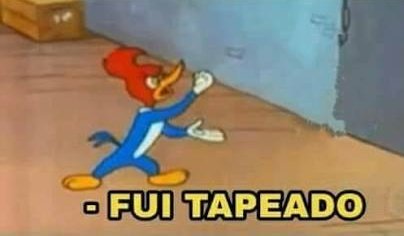 mmm that bad that everything is only vaporware, I would like to see an icq service working with everything and source code to learn from it.
interesting, let me take a look, thanks.
its not difficult to build
even you can use the old backup to retrieve the list back
coz i built one already
problem is no webicq and android /ios app supported
yeah but honestly who gives two shits about those, we are here for the old, nontelegram clone icq.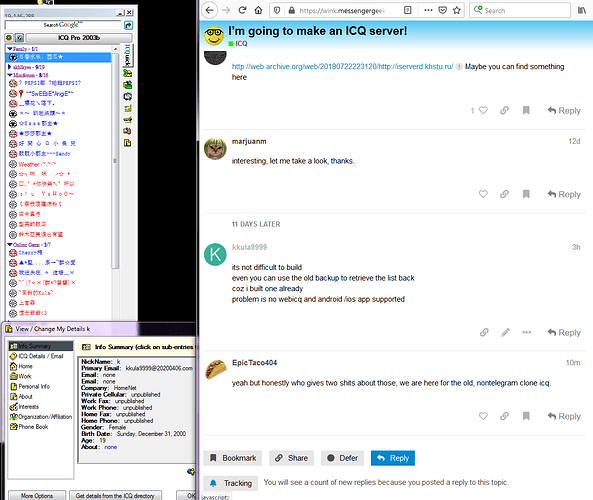 coz most of ppl using app instead of pc, if any app can work with iserverd it would be great, or webicq source code as well

So, what is the latest news about this ICQ server? I'm tired of using ICQ on my mobile. It's a batterykiller.
Well, I don't know about this guy, but I'm launching a service at the end of May which includes ICQ.
hi mate, wondering any of the mobile app for icq would work with your server? thanks

Hello. I don't know about the mobile app for ICQ because it is so difficult. But I'm thinking about creating of the web version of ICQ which will be connected to my server. My server will be opened very soon(i think May or June). And I want to remind y'all, many version of the ICQ will be supported by my server. Have a good mood during the quarantine time, guys

What is it going to be hosted on?
Depends on the mobile app version and the protocol it uses. It's not as simple as "too difficult so I'll make a web based version."
Yeah, you're right it's depends on the protocol. I think he mean new version of the mobile ICQ app, which is uses new version of the ICQ protocol and not compatible with OSCAR/ICQv5
I want all of the chatting services to connect to escargot
I think old versions of the ICQ clients will work with the server.