[NOTE: KompoZer was discontinued, but was continued with another name, called BlueGriffon, has the KompoZer code but is more updated, supports HTML5/CSS3 and more! download it here: http://bluegriffon.org/]
In this thread i'm going to talk about how to download KompoZer: KompoZer is a WYSIWIG program of web creation free and without any annoying Premium, you can create easily a website from 0 or you can download any template and put it in KompoZer to edit it, and KompoZer if you don't want to create your webpage with the editor and instead you want to create it editing the HTML and CSS programming, you can do that! so this is a program for Professionals and for Noobs, and the program only weights 22 MB!:
First step: go to the KompoZer official webpage: www.kompozer.net (Note that the KompoZer webpage was created with KompoZer, lol)

Second step: go to the Downloads category and download the 0.8b3 version

Third step: Install it and enjoy it! create a website, blog or web market and publish it with your favourite hosting service (i recommend you 000webhost)
This is a screenshot of the program: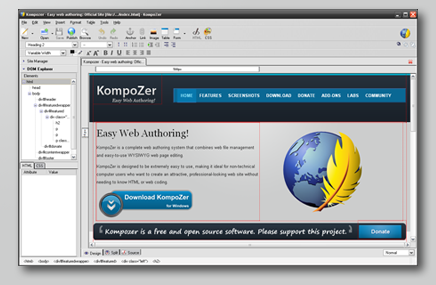 But sadly, the program was discontinued in 2010, so the program only supports for now HTML4.01, so if you want to download a template in Internet, that template must be HTML4.01 or other HTML versions, but you can press the feedback button and send a message to the programmers, to make to it to create a new version, please all of the MessengerGeek members, in the Feedback button of the webpage, send a message for the programmers saying that create a new version!

And KompoZer is a open-source program, so you can modifiy the source code if you want, the Source Code is in the Downloads category of the WebPage
If anyone wants to contact me, do it via MSN Messenger: urdanetaa19@gmail.com i'm connected and available 24/7