How can we rename ourselves? I am tired of being called shadow
"Your account icon at top right corner">Account name>Preferences>At "Account Section", there's name, you can change it.
Wait, username you mean? i think you can't change it. ask @TReKiE to do it for you.
or @Balazs_V? Since he's a moderator, and should can change someone's username.

Solved., now trekie close this
Yea that's how i changed my name from Fs_Virtual_pilot to Cartoon

i think u can chenge it in settings
cant, you need to ask trekie or now balazs_v
You can still call me shadow, but vriska or Serket or Mindfang is recommended
i'm looking to remove the "Chaziz" part of "ChazizPF94", kinda pisses me off when people call me Chaziz.
i already requested that weeks ago, never got a reply, however i do know trekie's more active these nights, so i'll ask him around around 10-11 PM est.
balazs_v is active on discord rn, he might be able to change your name rn
i messaged him on MG, i do not want to remessage him on escargot/discord.
wait it's done?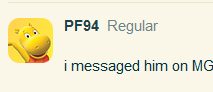 jesus christo
HOLY ROLY POLY CRAWLING IN GUACAMOLE MIXED WITH MACARONI! UR RIGHT