I was just thinking the other day that the latest Hangouts deadline of the "first half of 2021" (not to be confused with 2019 or 2020) was about to end with nothing happening, but this appeared in Hangouts for me this evening: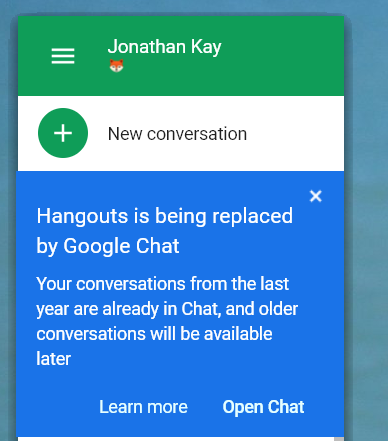 Hangouts is being replaced by Google Chat

Your conversations from the last year are already in Chat, and older conversations will be available later.
The Learn more link takes you to Learn about the switch from classic Hangouts to Google Chat - Computer - Hangouts Help, which has the following info:
---
Google Chat limitations
Video call ringing isn't available on Google Chat. If you use classic Hangouts for direct video calls that ring, don't switch to Google Chat. To start a video call in Google Chat, you can drop a Google Meet chip into the conversation and dial in.

Classic Hangouts message history after June 2020 appears in Google Chat. Message history from before June 2020 will be available in Google Chat later.

Children under 13, or the applicable age in their country/region:

Don't have access to Google Chat yet. They can continue to use classic Hangouts.
Can't send messages from classic Hangouts to Google Chat.
If you have active conversations with accounts for children, don't switch to Google Chat.

Google Chat supports blocking people across all Google.com services. If you previously blocked people in classic Hangouts through a third-party product (such as an XMPP client), these block settings won't carry over to Google Chat. Review your list of blocked people.
---
So it doesn't look like it'll be a forced migration/shutdown until some of these limitations are addressed.