After tweaking XML code that Yahoo! Messenger uses to load Yahoo! Chat categories, I don't think leaving it just to satisfy Yahoo! would be a good idea.

I was actually considering this beforehand, and I honestly wanted to implement Yahoo! Chat sooner, and now that I've got the categories functioning, I'm planning to implement Yahoo! Chat onto Escargot (after @valtron finalizes the Yahoo! frontend and publishes it)!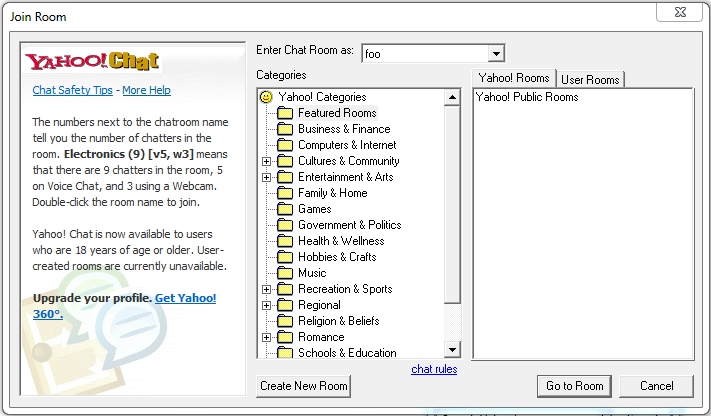 However, the only thing that's getting in the way is the very little amount of archived XMLs for the rooms held within the chat categories. In fact, there are only 2 of these chat categories' rooms archived (Rooms in "Cultures & Community -> Groups -> Teens" and an "Adult Chat" category that I can't seem to locate in the XML).
As for user-created rooms, I don't plan to implement them for the sole purpose of keeping things consistent with Yahoo! Messenger versions (FYI, the option to create/access them were removed around 2005).

So yeah, see ya!