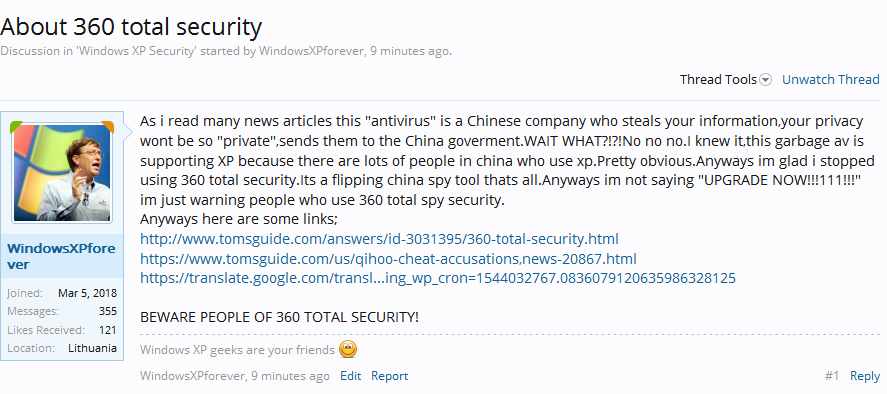 Credits to
@RioMcCloud
for some links!

Yep. Opera is also Chinese commie crap, no wonder they've put lazily tacked on features like every other Chrome clone / Chinese software out there
Opera is, already chinese wow
yep they're owned by qihoo
Opera = your privacy=leaked
When i got my gaming laptop it came with this anti-virus, and i never knew this program was spying on me. It's time to change my anti-virus to Malwarebytes
Malwarebytes is not so good to be used as primary protection, but rather as a "second-opinion scanner". Use Kaspersky, Avast/AVG or Bitdefender instead.
Kaspersky is Russian, they also sell data badly IIRC…
Kaspersky's profit comes from antivirus licenses, not from ads and data collections like Qihoo and other Chinese companies. It [Kaspersky] is a company that is totally focused on cybersecurity, not ads and so on.
Also I'm not too certain on AVG anymore since people have been saying it's been getting worse. I would look at archived AT-Test results for windows xp but i can't SINCE MY SCHOOL BLOCKS EVERYTHING THAT'S INTERESTING AND THEY BLOCKED MOST OF YOUTUBE WITH A $5,000 PROGRAM WHICH ISN'T NEEDED! UGH! Sorry about that, but yeah look at the archived test results from AT-Test, I've recently used Avast and it ran smoothly and i hardly got ads to buy their other/better versions yearly. Try and make them goto that and see if they like it.
By the contrary, AVG has improved a lot in recent times. Once they were purchased by Avast, their engines became one and their threat catalogs were duplicated, and their resources were now much more powerful and equivalent (what Avast detects, AVG also and vice versa)
yeah, but i think what they mean by has decreased in quality and stuff is mostly because of its UI being cluttered with ads about itself, and some others. haven't used it in over maybe a year so idk. But i really think avast is better just because it ran fast on my grandma's early 2000s celeron pc with 256 Mb or so of ram, and an IDE HDD. AVG just made it chug and basically made my grandma upgrade straight to WIN 10.
Man, AVG does not show ads (only on Android version). And the promotions to upgrade to its paid version are discreet and do not hinder ANYTHING in using it. If you want something light, use Panda Dome. If that's not enough, upgrade your hardware to 1GB of RAM, since it is impossible to live with 256MB nowadays without a light Linux distro.
Well, i used that pc up until 2016… that was the last time i saw it. for how old it was it was still useable. IDK how but it might've had something to do with me taking care of it. It might've had 512 Mb of ram, but it wasn't 1GB from what i remember. I wish my cousin didn't recycle it so i could salvage it for parts. Anyways, avast is still what i'd recommend since it was doing really well for me. It's still up to the user, you can try your best… but you can't force someone to do what you say sadly. So if they want 360 Security let them live with giving their info away.
Avast is the same as AVG, with different interfaces - same detection, same performance, everything. And no one was forcing anyone here

yeah
avast is the same, tho… i do appreciate that avast can still get def updates on 2k iirc