CollabVM is hiding a secret from you, they are an illegal site that lets people bully good people. We need to make a petition to shutdown this entire site down.
CollabVM is an bad site that is made for bad people. Their entire Discord is also banned too. The moderators and admins are actually "not caring about the rules" and just ban people for no entire reason needed.
The reason people use this site is to bully and get them doxxed. The internet needs safety and this needs to spread everywhere online. CollabVM isn't that pouplar yet, but please do not use the site. There are lots of abusers, people who do not read the rules, and sometimes cringey, absurd, naughty, people.
This site is "NOT" a good site. We need actual good moderators, actual good admins, who care about the rules.
Oh yeah, and don't forget they also hate the YouTuber named Enderman, and call him gay. The admins don't even care about the users who try to have fun. Please report this everywhere online, try to get this all everywhere on the forums, news, and social media.
Again, I repeat the site is not safe. Do not use CollabVM.
Also if you're confused about being this my first post, I'm just spreading things that are true, and my next post will be normal soon.
I hope you guys readed this carefully, and take care and report CollabVM to Google.
UPDATE: Recently I've found where the video of CollabVM was usally used in. Siam Alam's video is the first one who has a video on CollabVM, meaning that this is what lead to forkies and fags to the site.
Here is a link to the video.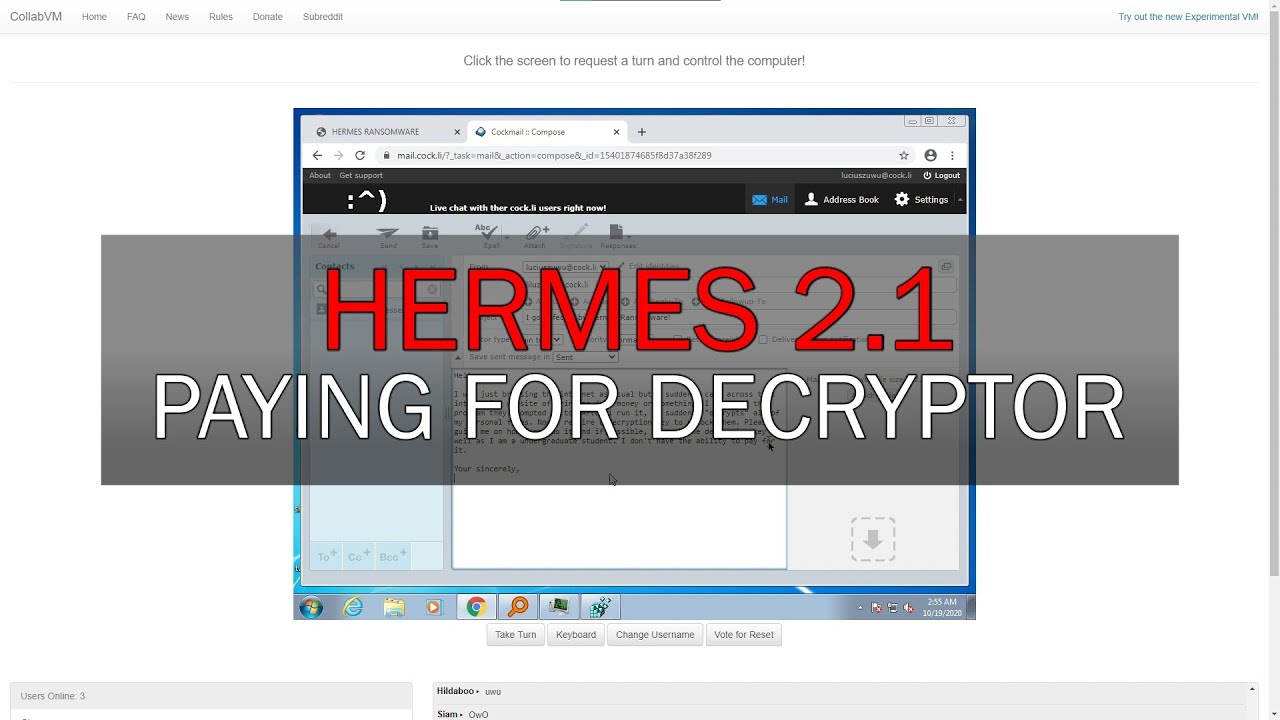 The video is about Hermes 2.1, paying for a decryptor. This is the first video of CollabVM in existence. The CollabVM link was actually made all the way back in 2015.
This video is from 2020, meaning that this is 5 years later to be actually seen by people.
Here's all we need to know:
Site was in 2015, meaning that it is very old.
People are toxic and horrible on that site.
Not safe for a kid or even a child.
Here's all we need to do:
Report them using Google's Safety, and Microsoft's SmartScreen.
Shutdown their Reddit and Discord.
Warn about people of about the site.