Debunking this shit:
Your Router (if it's NAT), has to open ports from RDP, SSH (22), Telnet (23) or VNC.
Your Firewall has to do it as well (if enabled)
You need servers installed
so why does he think he can remote him?
+
All remote protocols if you set them up properly require you enter a password
RDP kicks you out of your account if you connect to your own account
SSH and Telnet are non GUI (is Pedrox able to handle this?!?)
so let me make this clear


i sent him this pic


i wanted to see if he does read the text or not (

)
there are some screenshots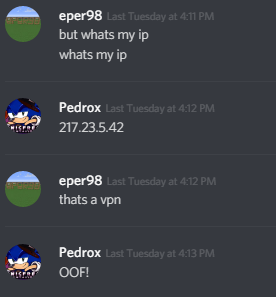 yeaaaa right, what if i have more PCs connected to the network?
does he even know how to remote into a PC?
how to remote control a pc pedrox mode:
open teamviewer
ask the person for the details (ID, pass)
???
Profit!
i usually use remote desktop connection. hope he wasn't using that to remote him
Only real hackers use public remote admin. protocols like me kek
I bet he watches "HOW TO DDOS SOMEONE OVER CMD [LEGIT]" videos made in 2009 with HyperCam and Windows XP
and what would he even do if he actually got in
idk maybe format C or syskey


(you cant format C)
anything he does could probably be repaired. even if he needs to put the hard drive in another computer to get his files
i dont really care if he has my ip
Pfft. Even those scammers from India do that shit.

Syskey was removed from 10
Yeah it was removed to make Windows 10 PCs more "safe". It's a very old Windows component that was introduced in Windows NT 4.0 SP3.
Did you know that Syskey once had a bug that affected both Windows NT 4.0 Post-SP3 and pre-RC3 versions of windows 2000?