**Mercury with MSNP15 support, check**
BETA 2: Mercury Messenger for android with MSNP15 and MSNP11 support.
---
I mean after much battle, lots of study, lots of reverse engineering and lots of effort, we got our first mobile application compatible with Escargot MSN Server by @valtron. This opens many doors and future possibilities.
My special thanks to @tristanleboss, without him, this and many other things would be impossible and Mercury developer | http://d-soft.nl/.
(*) This version works on MSNP21 (WLM16), MSNP15 (WLM8.x) and MSNP11 (used in version 7.x of MSN Messenger), but the Escargot server only supports MSNP11 at the moment. Then you need to select it in the "Other" option as in the images below. The application is already old and may have compatibility issues with versions above 4.3.
CHANGELOG
:::: Tristanleboss have fixed "android.os.NetworkOnMainThreadException" error. (check build 02)
BUG LIST:
:::: You may not be able to add contacts
Errors reported by @LostJak. (Thanks bro) | #8 (Some peoples have problem and others don't have).
:::: I am able to send a voice clip on phone, but the user on PC won't receive anything. The PC user sends a voice clip and I get a message on screen that says "Receiving voice clip…", but it never actually receives it.
:::: PC user sends a file but it won't show up for phone user. Phone user sends a file and it appears for PC user, which accepts it but the transfer never starts.
:::: I tested the "What I am listening to" functionality as activated, but it doesn't seem to work, as my personal message won't change. I tried it while listening to a song in Rocket Player app.
DOWNLOADS:
Version 4.0.2 Build 02: https://onedrive.live.com/download?cid=3ddd8b66adb3e1f3&resid=3DDD8B66ADB3E1F3!4032&authkey=!ABM4cjBrnLj6lms
Version 4.0.2 Build 01 (instable): https://onedrive.live.com/download?cid=3ddd8b66adb3e1f3&resid=3DDD8B66ADB3E1F3!4031&authkey=!ALu2kSWeigTKNJg
** Before installing, you need to make sure that the "unknown sources" option is checked in Settings> Security> Unknown Sources in order to install outside the PlayStore.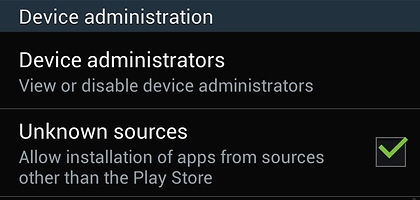 1) Choose New Account option.

2) Type your Escargot email, your password, then select "Other" option. Switch from MSNP21 to MSNP11 as the picture shows. And press sign in button.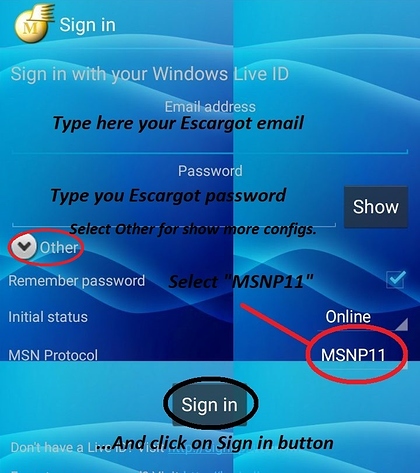 Good fun MessengerGeek and Escargot users.