IMPORTANT NOTE: Hendicted is now apologizing for hacking my PC and more.
So this post is probably useless by now.
Well, I have recovered my ThinkPad because some idiot admin (who host Fun Shitposting) have hacked my ThinkPad, here's what they did:
Leak my IP Address to Pastebin/Dark Web (He also said he doesn't care if its was Dynamic or VPN, I think he hired hacker to hack this IP, only ThinkPad affected, not my Gaming PC)
Attempting to reset my Google Account + Microsoft Account password, failed because I have 2FA enabled
Hacking and Remote controlling my ThinkPad
Spamming chat to every people on Roblox, Discord using my acc with a message like "You sucks lol"
Resetted my sister Roblox account password (acc perm hacked)
Attempting to Call my Dad (likely the hacker tries to reset my Google Acc Password using voice call)
Lastly, attempting to crash my ThinkPad with Tons of CMD.
The reason I hate this wiki because that wiki is used to attack my friend "SuperNicholas2005", And aswell doxxing him.
I got hacked easily because I'm using an outdated Windows 10 LTSB 2015 that stuck at checking for updates (trying to get WSUS Offline Update work), Win Defender outdated about 5 years ago, Avast not installed…
now my ThinkPad recovered by Enable Airplane Mode, Boot to safe mode with internet and Disable Airplane Mode, download Avast Offline Installer, Enable Airplane Mode, reboot, installing Avast and scan, then Turn off Airplane Mode, installing patches via WSUS Offline Update…
oh I also saw icanttellyou on Fun Shitposting Palace
I previously downgrade, clean reinstall from LTSC 2019 to LTSB 2015, now:
Due to this, I upgraded from LTSB 2015 to Red_Eye_Computing's Aero10 that's based of Windows 10 LTSB 2016, but this modded version has Aero Glass (Aero Glass pre-cracked by using Zeus crack) and a Win 7 start menu on it (StartIsBack++ pre-cracked)
This is a tool he used to hack/remote: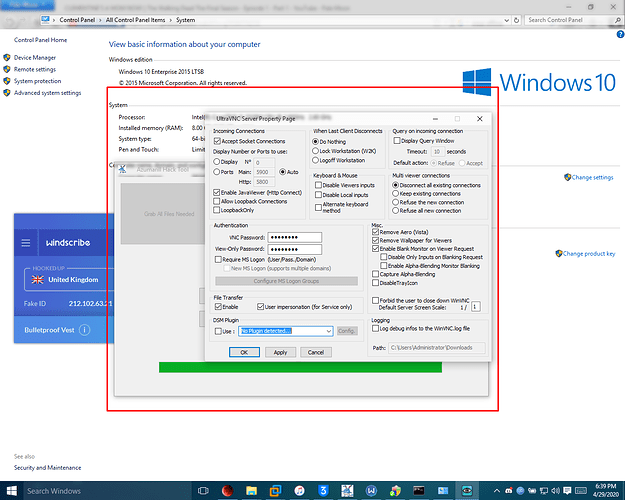 and here is inside WinVNC.exe (UltraVNC)
I clicked the Close button.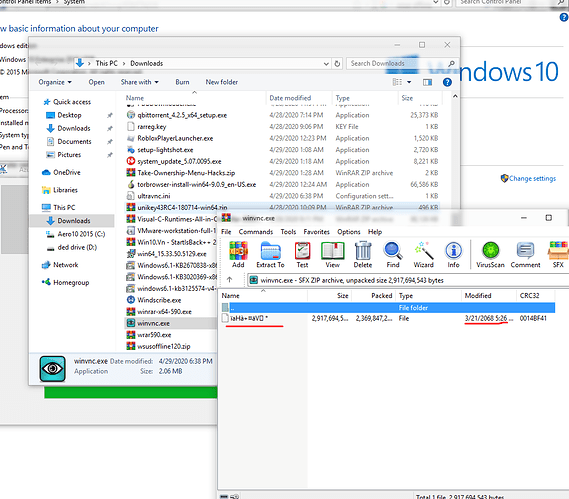 the only way to remove and prevent is now install Avast and upgraded to Aero10.