Dear Alessio. Make your AleSpeak code open source. So everyone else on the developement team can work at it.
The project is. everybody else guessed it. dying.
I just took a break from working on CatSpeak because nobody on the devleopement team doesn't, give, any, single fuck about CatSpeak and i'm starting to don't give a fuck as well.
The community of MessengerGeek has mixed reviews for CatSpeak.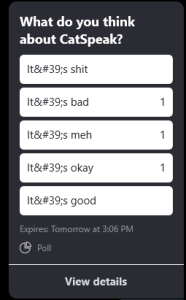 And i'm guessing it's going to be worse each day.
I find the idea of CatSpeak to be pointless. Because it's just a basic messaging client.
So why am i working on this? Like back when we used VB. NET we were just using the OG prototype. Then some days after i switched to C#. CatSpeak spiltted into two. PF94chat, a IRC client that's never going to be worked on again. and AleSpeak, A generic rebranding of Veselcraft Messenger.
I fell like this project isn't moving forward.